No Saturdays Tour for Walk-in visitors in October Month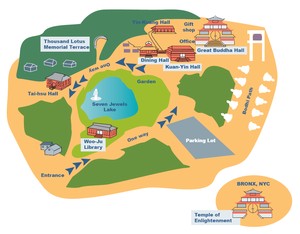 Tour guide is possible available for groups visiting to the Chuang Yen Monastery.
Currently, this service is offer for free  to walk-in visitors on Saturdays only and is provided by volunteers of the monastery who are willing to travel long distance and to dedicate their time.  There'll be a nominal donations required for the services extended to other days prior to the arrangement for the visit.
The duration of the tour lasts about an hour  to introduce the basics of Buddhism and the monastery; a short meditation could be included upon request.  Please check the monastery calendar to avoid the day when retreat is in progress. The best start time for group tour will be 11:00 am and no later than 2.00 pm.
Interested groups, may register through the this link: Group Tour Registration
Please note: Donations are welcome to the monastery. Please make the check payable to "B.A.U.S".
If you have any further question, please contact and/or send your email to cym@baus.org.