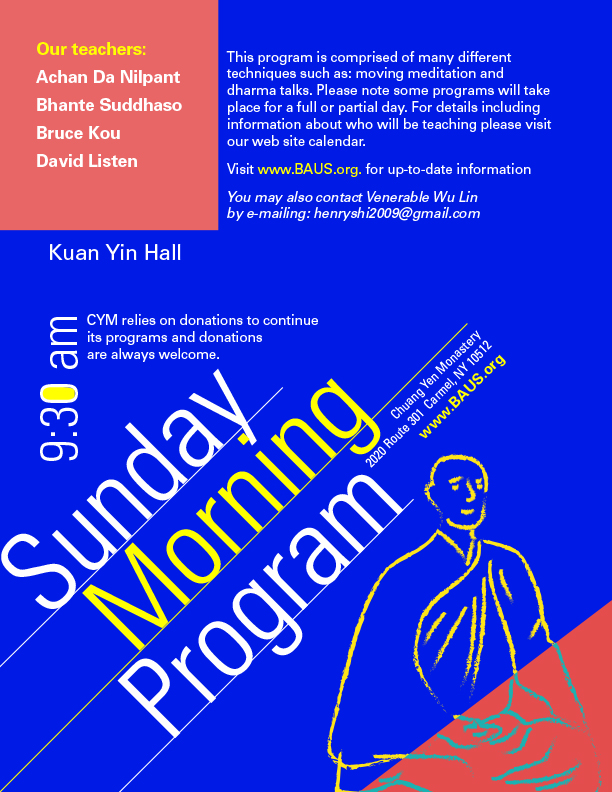 Join us for Sunday morning meditation! It's back!
Location: Kuan Yin Hall from 9:30 to 11:00 am unless otherwise noted please check calendar for each class.
This program will be lead by various teachers, each with their own style and knowledge. 
Please note that there will also be a full day meditation on certain days that will run from 9:30 to 4 pm.
CYM relies on donations to continue its programs and donations are always welcome.
Achan Da Nilpant
Achan Da Nilpant has been teaching meditation for over 25 years and is the abbot of the Redding Meditation Society. He was one of enlightened monk Luangpor Teean Jittasubho's closest students. He was born on August 16, 1951 at Nonsawang village, Roiet Province, in the northeast of Thailand.
Bhante Suddhāso
Bhante Suddhāso is a Buddhist monk living in New York City. The co-founder of Buddhist Insights, a new platform using technology to build community and facilitate access to reliable monastic teachings, his work aims to convey Buddhist concepts and their practical applicability to everyday life. Bhante Suddhāso has studied under the guidance of some of the most important names in Western Buddhism, such as Ajahn Pasanno, Ajahn Amaro, Ajahn Vīradhammo, and Bhante Gunaratana. Bhante Suddhāso practices meditation according to the original instructions given by the Buddha in the Pāli Canon – the oldest collection of Buddhist scriptures, which contains an enormous amount of very detailed and precise guidelines on how we can live our lives in a way that reduces our dissatisfaction and discontent.
Bruce Kou 
Is a Buddhist writer and teacher who works on Buddhism modernization in China and US. 
He has published 4 books on Buddhism modernization.
David Listen
David has been teaching Chan/Zen meditation for over 10 years, leading numerous intensive meditation retreats, classes, and activities at various meditation centers, as well as teaching at many college campuses and private institutions throughout the U.S., Europe, and East Asia.