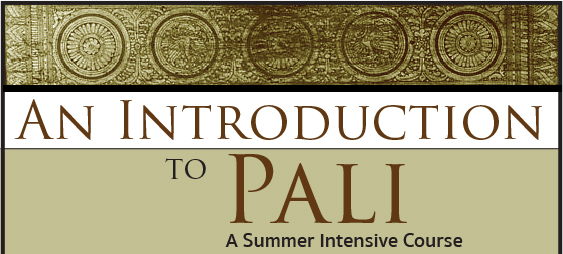 Come spend some time this summer with an introduction to Pali, the language in which the texts of early Buddhism are recorded. Pali, part of the Indic family of languages, is based upon the vernacular languages of northern India used at the time of the Buddha.
By learning the basics of Pali grammar and vocabulary, students can begin to engage directly with the Buddha's teachings, leading them to understand the thought world in which the Buddha lived with a richness that cannot be captured in translation.
No prior knowledge of Pali is required. The course will start with the basics, showing students how the alphabet is organized and how to find words in a dictionary. Basic grammar will be covered in depth. Students will begin to read passages of the Pali canon themselves.
This course will use two textbooks. The first, Lily De Silva's Pali Primer, is available in print as well as freely available on line. This text starts with very simple sentences that introduce the noun and verb forms of Pali. Once this book is worked through, A New Course in Reading Pali: Entering the Word of the Buddha by James Gair and W.S. Karunatilleke will be used to begin reading the Pali canon. Additional materials will be made available for students via dropbox. The class will be held at the the Woo Ju Memorial Library at Chuang Yen Monastery and simultaneously online, allowing one to join from anywhere.
Class times:
July

---

Monday 10    3:30
Saturday 15   2:00
Monday 17    3:30
Saturday 22  2:00
Monday 24   3:30
Saturday 29  2:00
Monday 31    3:30

August

---

Saturday 5    4:30
Monday 7      3:30
Saturday 12   4:30
Monday 14    3:30
Location: Woo Ju Memorial Library at Chuang Yen Monastery
2020 Route 301, Carmel, NY 10512
845-225-1819; 845-228-4288 www.BAUS.org
FOR MORE INFORMATION:
Please contact Stephen Sas, a student of renowned Pali scholar Bhikkhu Bodhi, for more information: stephen.sas104@gmail.com
Textbook download: www.pratyeka.org/Silva/
To join class online: contact Stephen: stephen.sas104@gmail.com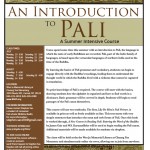 View Full Page Flyer