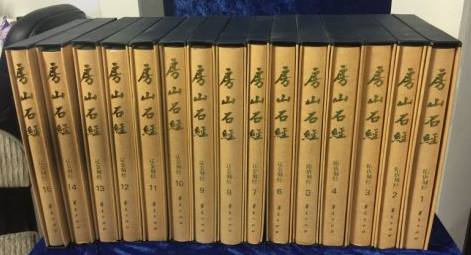 On Sunday August 23rd, 2015, the World Fotu Foundation, on behalf of Yunju (Cloud-dwelling) Buddhist Temple, Beijing, China, is offering the sacred text of "FangShan Stone Tripitaka Sutra" to Woo Ju Memorial Library. Richard Ke, PhD., who will be presenting the thirty-volume set, says "We admired Dr. C.T. Shen's contribution to Buddhism very much. We hope to donate this set to memorialize and pay tribute to his effort, as well his work for Woo Ju Library. We only chose the Buddhist Association of the United States (BAUS) and United Nations to donate this set of canon in America, during this trip from China."
Yunju Temple is one of the most revered sanctuaries of the UNESCO World Heritage sites. It is well-known because of its extensive stone-engravings. This priceless treasure of humanity has lasted a thousand years, and is sure to benefit future generations. It is a mark of perseverance and quiet dedication of the human spirit.
In 605 A.D., the sutras began to be engraved by the monk Jing Wan. Wan had a vision to preserve Buddhist text from destruction, he determined that the Buddhist text should be carved into stone. He was in Beijing Fangshan (the current site of Yunju Temple). After Jing Wan's death, his students carried forward the work, from generation to generation, and went through Tang, Song, Liao, Jin, Yuan, and Ming dynasties, lasting a thousand years. Some 1122 books and 3,572 volumes of Buddhist sutras were inscribed on 14,278 stone tablets! Those tablets were originally hidden in the nine grottoes in the Shijing Mountain.
Other than the United Nations, this gift is only available at the Buddhist Association of the United States, Carmel, New York. The texts will be on view in Woo Ju Memorial Library, in addition to the complete Pali Canons, and the Mahayana Tripitaka. Woo Ju Library opens on Saturday and Sunday from 10 am to 5 pm. It provides great loaned Buddhism reading & audio-video material. Material can be borrowed for three weeks. Feel free to talk to the librarian for recommendations of Buddhist material.