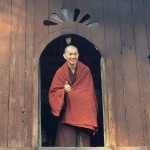 Please join us for this exciting series where individuals can deepen their knowledge of using Sutras as inspiration for meditation.
During these 3 classes, Ven.
Dao
Yi
 would pick certain topics which befit meditation from well-known Buddhist Script – Flower Adornment Sutra, Lotus Sutra and Diamond Sutra as a guideline for practitioners.
Program Schedule:
Ven. Ekāyana (道一法師),
was born and raised on Malaysia's beautiful island, Penang.
1997, graduated from Institute for Medical Research, Malaysia.
1997, received novice ordination.
1998, received full ordination in Taiwan.
2002, graduated in Diploma of the Primary Buddhist Study from Fu Yan Buddhist Institute, Taiwan.
2003-2009, taught in Malaysian Buddhist Institute.
2012, obtained Graduate Diploma of Arts (Buddhist Studies) from Fu Yan Buddhist Institute, Taiwan.
2011-2012 & 2014-2015, taught in Fu Yan Buddhist Institute, Taiwan.
2014-2015, taught in YiTung Buddhist Institute, Taiwan.Besides Malaysia, he also gave Dharma talks in Taiwan, Hong Kong, Singapore, United States and Europe. Currently, he is appointed as advisor and Dharma speaker for certain Buddhist Association and Monastery.