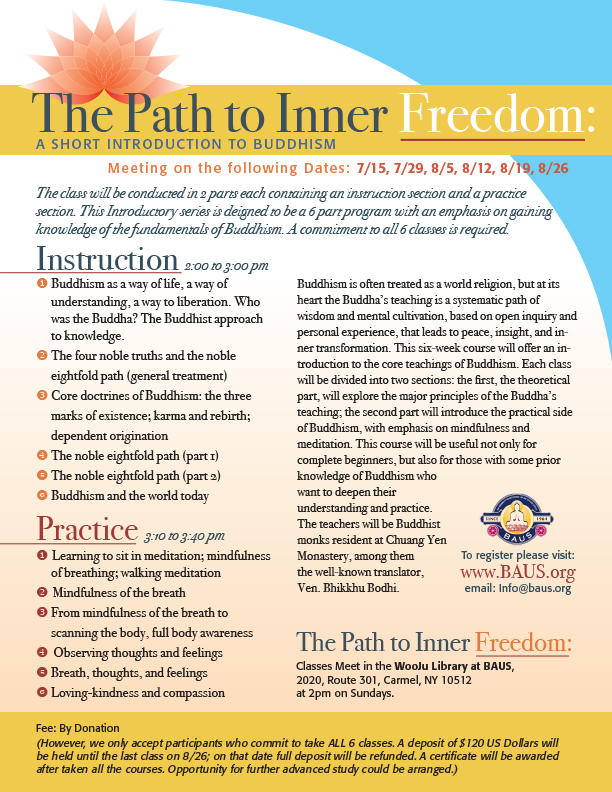 A Short Introduction to Buddhism
The Path to Inner
Freedom
The class will be conducted in 2 parts each containing an instruction section and a practice section. This Introductory series is deigned to be a 6 part program with an emphasis on gaining knowledge of the fundamentals of Buddhism.
A commitment to all 6 classes is required.
Classes Meet in the WooJu Library at BAUS, 2020, Route 301, Carmel, NY 10512
at 2pm on Sundays on the following Dates: 7/15, 7/29, 8/5, 8/12, 8/19, 8/26
Buddhism is often treated as a world religion, but at its heart the Buddha's teaching is a systematic path of
wisdom and mental cultivation, based on open inquiry and personal experience, that leads to peace, insight, and inner transformation. This six-week course will offer an introduction to the core teachings of Buddhism. Each class will be divided into two sections: the first, the theoretical part, will explore the major principles of the Buddha's teaching; the second part will introduce the practical side of Buddhism, with emphasis on mindfulness and
meditation. This course will be useful not only for complete beginners, but also for those with some prior
knowledge of Buddhism who want to deepen their understanding and practice.
The teachers will be Buddhist monks resident at Chuang Yen Monastery, among them the well-known translator,
Ven. Bhikkhu Bodhi.
Instruction 2:00 to 3:00 pm
• Buddhism as a way of life, a way of understanding, a way to liberation. Who was the Buddha? The Buddhist approach
to knowledge.
• The four noble truths and the noble eightfold path (general treatment)
• Core doctrines of Buddhism: the three marks of existence; karma and rebirth; dependent origination
• The noble eightfold path (part 1)
• The noble eightfold path (part 2)
• Buddhism and the world today
Practice 3:10 to 3:40 pm
• Learning to sit in meditation; mindfulness of breathing; walking meditation
• Mindfulness of the breath
• From mindfulness of the breath to scanning the body, full body awareness
• Observing thoughts and feelings
• Breath, thoughts, and feelings
• Loving-kindness and compassion
Fee: By Donation (However, we only accept participants who commit to take ALL 6 classes. A deposit of $120 US Dollars will be held until the last class on 8/26; on that date full deposit will be refunded. A certificate will be awarded after taken all the courses. Opportunity for further advanced study could be arranged.)