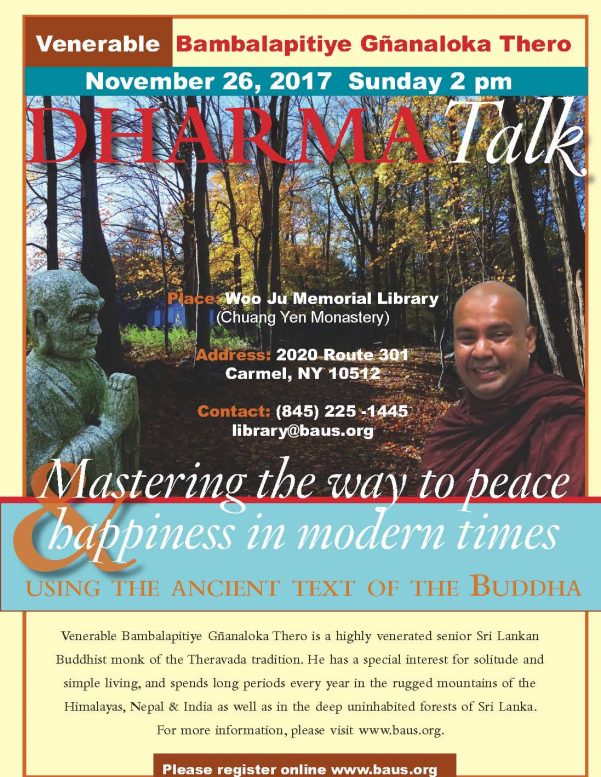 Dharma Talk by Ven Bambalapitiye Gnanaloka Thero
USING THE ANCIENT TEXT OF THE BUDDHA 
The program will start at 2 pm with a meditation session, followed by the Dharma Talk and Question & Answer. 
Venerable Bambalapitiye Gñanaloka Thero is a highly venerated senior Sri Lankan Buddhist monk of the Theravada tradition. Venerable Gñanaloka is respected for his strict adherence to the Vinaya, deep commitment to meditation and for ascetic practices, similar to those of the ancient disciples of the Buddha. He has a special interest for solitude and simple living, and spends long periods every year in the rugged mountains of the Himalayas, Nepal & India as well as in the deep uninhabited forests of Sri Lanka. He ardently engages in continuous meditation practice as performed in the ancient times. His teachings, are direct and practical and reflects the teachings of the Buddha in simple  manner. Venerable Gnanalokas Dhamma  talks are suffused with  loving-kindness and compassion, and include interesting anecdotes from his experiences as a monk as well as from his early life. Rather than an intellectual abstraction of the teachings, Venerable Gñanaloka tends to focus on  practical applications of the Dhamma,  for developing wisdom and compassion in daily life.

He was born  in Sri Lanka in 1971 to a family of devout Buddhists. At the age  of 14, Venerable Gñanaloka accompanied his parents to South Africa and spent the  adolescent years with his family in Lesotho. As a teenager Venerable Gñanaloka was serious about cricket, loved to go for walks in the natural wilderness and had an inquiring mind about the causes for world phenomena. At the age of 18, through  reflections on phenomena on his own he experienced certain insights. Venerable Gñanaloka  explains how when  going for long and solitary walks, he came to understanding  the realities of life.
At the age of 23 he  returned to Sri Lanka from Nicosia in Cyprus where he was attending University. This return to Sri Lanka was to mark a significant milestone in his life. He  began an intensive search into the various aspects contemplative studies, studying in depth the texts of the key religions, such as the Bible, the Holy Quran, the Bhagawat Gita, to name a few. His quest for understanding the nature of the Universe, a deep interest in Astrophysics and an inner calling to discover the expansiveness of the mind, all flowered during this important period of his life. With gradual turning towards the Buddha's teaching. Venerable Gñanaloka discovered  that Compassion (karuna) and Loving-Kindness (metta), as explained by the Buddha,  were also part of the core teachings  of other religions.
An introduction to a saintly, mendicant German monk, Venerable Ñānavimala was the corner stone and  turning point in Venerable Gnanalokas life. Greatly influenced by the ardency and ascetic practices of Venerable Ñānavimala, Venerable Gnanaloka spent many years practicing meditation and the Dhamma teachings with his mentor (Venerable Ñānavimala) in the island hermitage, Polgasduwa, in Southern Sri Lanka.
In 1999 he became a novice monk thus entering monkhood at the age of 28 and ordained as a Bhikkhu in 2001 in Sri Lanka..

When he was in his early 20s, even before he became a Buddhist monk, he used to regularly travel to the Himalayas, as well as to the Holy towns of Rishikesh and Badrinath in northern India. After joining the Theravada monastic Order he continued to visit Badrinath and Ladakh and strived in ardent meditation practice in the rugged mountains and ancient caves of the Himalayas. Since 2009, he has been regularly visiting Mount Kailash and Lake Mansoravar  in Tibet,  to engage in serious ascetic meditation practice. During those journeys he recounts two near-death experiences. He has also been a  wanderer, journeying on foot, in the deep forests across Sri Lanka.  His constant companion has always been the ancient practices taught by the Buddha.
The year 2012 was significant, in that for the first time, this reclusive monk entered  public life and began  conducting Dhamma programs to large gatherings. In April 2017 he undertook the first overseas Dhamma Mission Tour to Australia.

For more information, please contact:
(845) 225 -1819, library@baus.org, 2020 Route 301, Carmel, NY 10512
Program is free of charge.
Will you consider to make DANA (donation) to support library program?
Please visit Donation Page for online Donation. ( Fill in "Woo Ju Library" on the purpose column).  You can also make the check payable to BAUS, with a note of "Woo Ju Library", and mail it to 2020 Route 301, Carmel, NY 10512. BAUS is a 501(c)(3) organization and donations are tax deductible to the full extent allowed by IRS regulations. 
(Please note: Dana to the teacher can be made on the date of the event by cash)