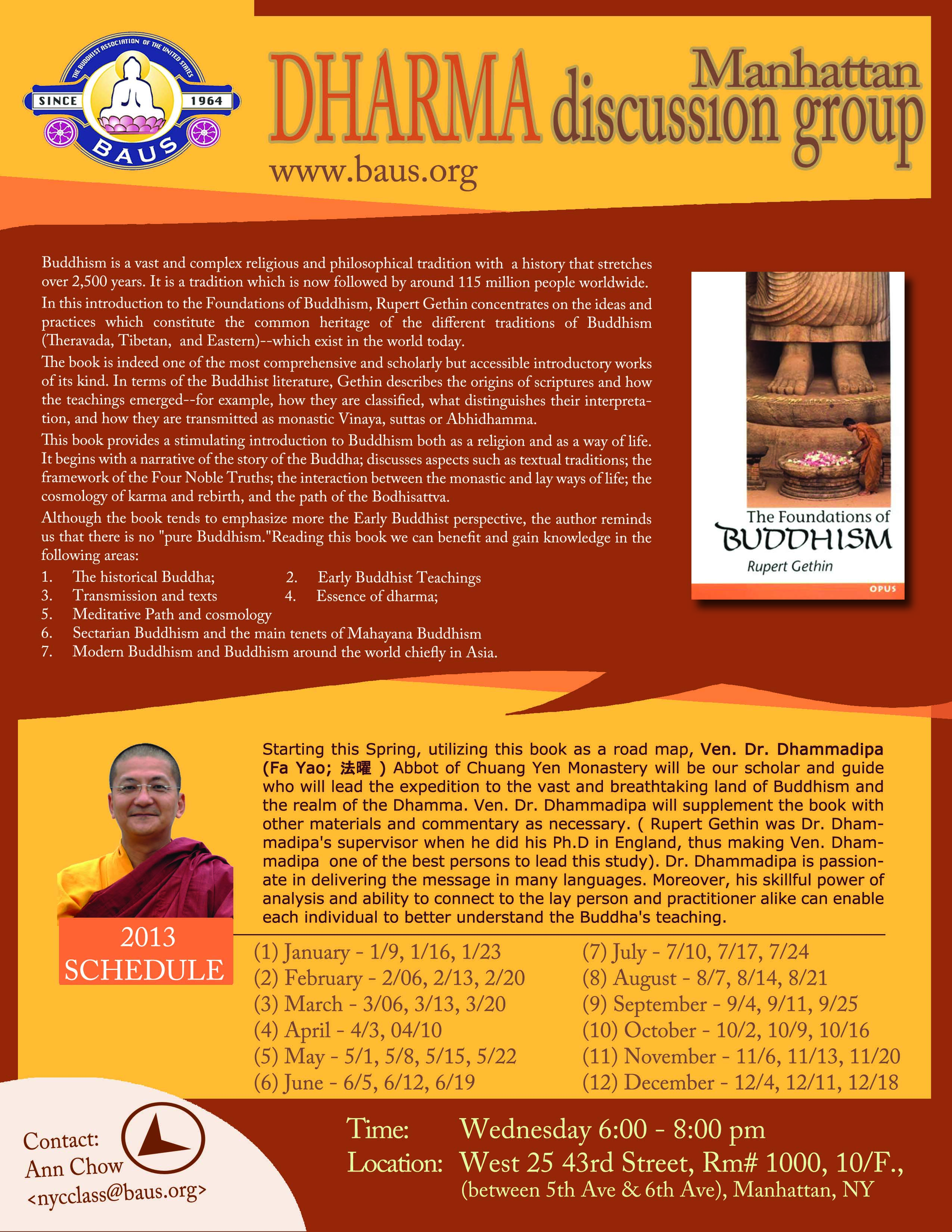 Location:
West 25 43rd Street, Rm# 1000, 10/F., (between 5th Ave & 6th Ave), Manhattan, NY  
Reading:
"The Foundations of Buddhism" by Rupert Gethin  
Schedule:  (2013) 

Wednesday 6:00 – 8:00 pm



(1) January – 1/9, 1/16, 1/23 (2) February – 2/06, 2/13, 2/20 (3) March – 3/06, 3/13, 3/20 (4) April – 4/3, 04/10 (5) May – 5/1, 5/8, 5/15, 5/22 (6) June – 6/5, 6/12, 6/19 (7) July – 7/10, 7/17, 7/24 (8) August – 8/7, 8/14, 8/21 (9) September – 9/4, 9/11, 9/25 (10) October – 10/2, 10/9, 10/16 (11) November – 11/6, 11/13, 11/20 (12) December – 12/4, 12/11, 12/18  
Contact:
Ann Chow <nycclass@baus.org>
Buddhism is a vast and complex religious and philosophical tradition with  a history that stretches over 2,500 years. It is a tradition which is now followed by around 115 million people worldwide.
In this introduction to the Foundations of Buddhism, Rupert Gethin concentrates on the ideas and practices which constitute the common heritage of the different traditions of Buddhism (Theravada, Tibetan,  and Eastern)–which exist in the world today.
The book is indeed one of the most comprehensive and scholarly but accessible introductory works of its kind. In terms of the Buddhist literature, Gethin describes the origins of scriptures and how the teachings emerged–for example, how they are classified, what distinguishes their interpretation, and how they are transmitted as monastic Vinaya, suttas or Abhidhamma.
This book provides a stimulating introduction to Buddhism both as a religion and as a way of life.  It begins with a narrative of the story of the Buddha; discusses aspects such as textual traditions; the framework of the Four Noble Truths; the interaction between the monastic and lay ways of life; the cosmology of karma and rebirth, and the path of the Bodhisattva.
Although the book tends to emphasize more the Early Buddhist perspective, the author reminds us that there is no "pure Buddhism."Reading this book we can benefit and gain knowledge in the following areas:
1.     The historical Buddha;
2.     Early Buddhist Teachings
3.     Transmission and texts
4.     Essence of dharma;
5.     Meditative Path and cosmology
6.     Sectarian Buddhism and the main tenets of Mahayana Buddhism
7.     Modern Buddhism and Buddhism around the world chiefly in Asia.
Starting this Spring, utilizing this book as a road map, Ven. Dr. Dhammadipa (Fa Yao; 法曜 ) Abbot of Chuang Yen Monastery will be our scholar and guide who will lead the expedition to the vast and breathtaking land of Buddhism and the realm of the Dhamma.
Ven. Dr. Dhammadipa will supplement the book with other materials and commentary as necessary. ( Rupert Gethin was Dr. Dhammadipa's supervisor when he did his Ph.D in England, thus making Ven. Dhammadipa  one of the best persons to lead this study). Dr. Dhammadipa is passionate in delivering the message in many languages. Moreover, his skillful power of analysis and ability to connect to the lay person and practitioner alike can enable each individual to better understand the Buddha's teaching.