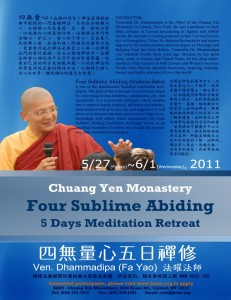 Date: 5/27/2011 (Friday) ~ 6/1 2011 (Wednesday)
Registration: 5/27/2011 (Friday) 2:00pm, 4:00pm orientation, 6:40pm Instruction
Place: Chuang Yen Monastery
Instructor: Venerable Dr. Dhammadipa (Fa Yao)
Four Sublime Abiding (brahmavihāra) is one of the fundamental Buddhist meditation techniques. The goal of this technique is to eliminate anger by cultivating loving kindness, compassion, joy, and equanimity. It is a powerful technique which enables one to remove hatred, jealousy, affliction and manipulated mind as well as to raise joy and happiness.
It will allow us to increase our inner peace and to improve relationships with others. More importantly, the Four Sublime Abiding meditation technique serves as an excellent foundation for those who would like to practice other meditation techniques.
During the 5-day retreat, Venerable Dhammadipa will introduce the teaching given by Buddha two thousand and five hundred years ago, cited in Nikaya/Agama, Abhidharma and commentaries, and provide the comprehensive instruction of this technique. With practice, Venerable Dhammadipa presenting with Buddha's loving kindness and wisdom, hopes to help us reaching sense of purification and a better society.
The Instructor:
Venerable Dr. Dhammadipa is the Abbot of the Chuang Yen Monastery. He was a professor at Buddhist colleges in Taiwan specializing in Agama and Abhidharma. He was also a visiting professor at Sun Yet-Sen University in Guangzhou, China. He obtained his bachelor and master degrees in Sri Lanka whereas doctoral degree in Theology and Religion from the Great Britain.
Venerable Dr. Dhammadipa was ordained twenty three years ago. Because he has spent many years in Europe and United States, he has deep understanding of the cultures in both Eastern and Western societies. People often find his speeches humorous, inspiring, nonjudgmental and highly attended all over the world.
Guideline:
To uphold a good retreat quality, Please read the following guidelines carefully before you fill out the application.
Applicants must be 18 or older, and can behave independently.
One who is healthy with right faith and right view, and genuinely interested in learning meditation.
During the retreat, all participants will be observing "Noble Silence" and "Eight Precepts (except for those who are suffering from a certain healthy issue)".
Keep your movement slow and mindful to prevent from disturbing others。
No telephone is allowed, so please inform your family members and friends
If there is any reason you cannot attend after you have sent in your application, please let us know early.
Should you break any rule during the time attending the meditation, we may request you to leave.
Please bring your own sleeping bag and all you need for your personal use. Bring light and comfortable clothing for meditation. (fabric would not make a lot of noise, do not wear skirts or shorts); we suggest that you wear shoes without shoelaces for the convenience of entering and existing the halls。
CYM is situated on higher ground, the morning and evenings can be quite cool. Please dress warm and make sure you bring your jacket, hat and scarf.
Don't bring any valuable articles as we will not be responsible for any loss.
Meditation will be instructed in bilingual (English/Chinese), previous meditation experience is not required.
To prevent from disturbing the practice of others, please don't bring your children to the monastery if they can't maintain "Noble Silence" or sit quietly in the Dhamma Hall.
Please park your vehicle to the parking lot behind the Great Buddha Hall if you will be driving to the monastery.
Fee:
Chuang Yen Monastery is run on the basis of donation. It welcomes your donation to help cover its costs for hosting this retreat. A donation is welcome when participants register on the first day, or at the end of the retreat. All offering to the Buddha and Sangha are welcome.。
If you will sponsor a vegetarian meal, please let us know before the retreat. Arahant Meal $100、Fortune Meal $200、 Aspiciousness Meal $300 Wisdom & Compassion Meal $400、 Triple Gem Meal $500、 Peace Meal ($any amount)
If you are unable to participate, we welcome your joyfully engagement and merit sharing by sponsoring this retreat, or making offering to the Buddha and Sangha. Please make the check payable to B.A.U.S.
All the donation are tax-deductible, send the check to: 2020 Route 301, Carmel, NY 10512. Please note "7 day meditation retreat" on the bottom of the check.
For more information, please contact (845)228-4288, ext 104 or cym@baus.org
Application:
Click here for Online Application
Download 

Application Form

(Word File), and Fax it to 845-228-4283. Bring in the original copy when register.
Mail the application form. Please specify "7 days Vipassana meditation retreat" on the envelope.
【The deadline is May 20th】Please register as soon as possible for us to arrange your accommodation , meal, and other related matters in the monastery.
We will only notify you if your application is rejected.