Woo Ju Memorial Library was established by Dr. C.T. Shen to commemorate his wife, Woo Ju Shen.
It is a circulated Buddhist library to welcome everyone.
Library materials are divided into six major categories: English books, Chinese books, Multimedia (DVD & CD), Periodicals, Young adolescent & Children's books, and Reference books.
Library provides the following services:
Loan Service
Reference Service
Dharma Speaker Request
High School & College Religion Project Help
Book Study Group
Book Sale & Book Donation
Art Exhibition
Library opens 4/1 – 12/31 from 10 am – 5 pm on Saturday & Sunday.
Anyone 16 years of age and older may obtain a library card. Please present proper identification when applying. Download APPLICATION FORM here
For further information, please call us at  (845) 225 -1445 during the opening hours, or click here to contact us by email.
Library New Collection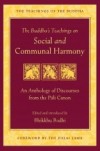 The Buddha's Teachings on Social and Communal Harmony: An Anthology of Discourses from the Pali Canon
Bhikkhu Bodhi
2016 240 pages    (Wisdom Publications)
ISBN 13: 9781614293552    ISBN 10: 1614293554
Click here to library Catalog for more (under construction) (Library Old Catalog)