By Li-Ching Fu Shyu
Even I couldn't believe it; I am going to edit the No. 150 Wisdom Journal. This means BAUS Wisdom Journal for all Beings is now 25 years old.
I began to think, how did I take the first step?
In year 1987, when Dr. Cia Theng Shen invited me to join the Buddhist Association of the United States (BAUS), to be the vice chief editor of "BAUS Members News Report (美佛會員通訊)", I said, "I have no experience, but I am happy to learn." Thus I took the job for the Members News Report.
At the time, my oldest son was 12 years old and my younger son was 9. Though I wanted to go to Chuang Yen Monastery to listen to the Sunday Dharma talks, I thought about my sons needs for me to take care of them, and I thus halted in hesitation.
I think, there must be many people who have the same situation as me. Due to the reason of their families, probably because their children were still too young, or because their home is too far form the monastery, even if they wanted to attend the Dharma assemblies, they just couldn't make it. If I could organize the speeches from Dharma teachers, and send them to our members' hands along with the news report, those who can't attend the Dharma talks would still be able to benefit from it.
This method would benefit others as well as myself. Therefore, I presented this idea to the board of directors, and told them that I wished to transform the Members' News Report into periodical journals. The target audience would not be limited to just members. The board of directors was happy with this idea, but they added a "but": but BAUS didn't have much financing for this project, and no people were available to help with this project either. Especially when we issue the journals, no one can be spared to help with the work of sticking address labels on the mail and running to the post office, and we shouldn't bother the monks and nuns in the temple.
The printing costs for the first 6 journals were bore by BAUS. Later, the financial cashier requested that the Wisdom Journal should be "financially independent". I was stupefied for a while after I heard this. I was thinking, "How can I be financially independent?" This is a one person "company". I not only need to find the articles, but I also have to pay attention to the finances as well, which was really a great burden for the Wisdom Journal!
Fortunately, heaven never seals off all the exits. When the Wisdom Journal had only 2000 dollars left, Bodhisattvas sent a beautiful emissary to help me: Sister Yàn Qīng Lín. Though the two of us had never met before, we talked a long time over the phone. She encouraged me to ask Mr. Hong Yang for pious alms. At that point, Mr. Yang sponsored our budget every month until the year 2009. And since the autumn of the year 2011, we have Brother Charles Yeung, the chief executive officer of The Glorious Sun Group from Hong Kong, who sponsors us to the present.
In the early stages, the Wisdom Journal was printed by an outside printing house, thus it was very difficult to control the delivery time and quality. During that period of time, I often needed to keep very close attention to the printing house. But even when we had an agreement about the delivery time, when our car arrived at the printing house, they still kept us waiting for several hours. Maybe because Bodhisattvas had mercy on us, they sent Brother Fu to give me a hand. Starting from the 26th issue of the journal, Brother Fu and his wife were kind to help us print the Wisdom Journal beautifully.
With these good friends' help, from the first Wisdom Journal issue until the present time, I worked unquestioningly and truthfully, editing the journal one after one. Now when I think back upon the early years when I started this job; I often had to drive my kids to extracurricular activities back and forth after work. I had to maintain exact timing, making sure they waited outside the door, and as soon as I got home, I would then ask them to get into the car and drive them to where they needed to be. And then I would drive back home right away and prepare for dinner.
Once dinner was ready, I would drive out and pick them up. Those days were the most intimate bonding time for mother and sons. My two sons never worried me. They studied conscientiously at school and voluntarily offered to help with house chores, so my heart was filled with warm happiness.
I thought about the past, when I worked early in the morning from 3am to 6am everyday, organizing the Dharma teachers' speech recordings, typing every sentence, and then checking every paragraph. Thus, the content of the speeches entered into my heart again and again. During this period of time, I was actually the one who benefitted the most from doing this job.
I believe that this must be an aspiration from my previous life; otherwise, a woman like me could never have carried on such a big career as publishing BAUS Wisdom Journal for all Beings. Since it is my aspiration from the past life, I should not have any fear or retreat. I have walked truthfully through the past decades; I will truthfully devote all my efforts to it in the future as well. I am really grateful for all the readers who helped the Wisdom Journal and all the readers from all these years, whether I know them personally or not; their passionate letters, a concerned phone call or a sincere blessing, they all gave me great confidence and hope. I also want to thank my husband and two children who helped me throughout all these years. Without their support and encouragement, I could never do it alone, and "playing" so carefree and so blissfully. I hope everyone will continually give us support and encouragement.
Thank you!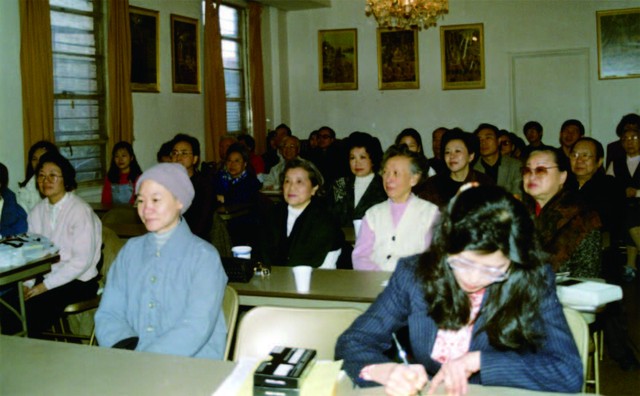 Early meeting minutes taking of weekend meetup in Temple of Enlightement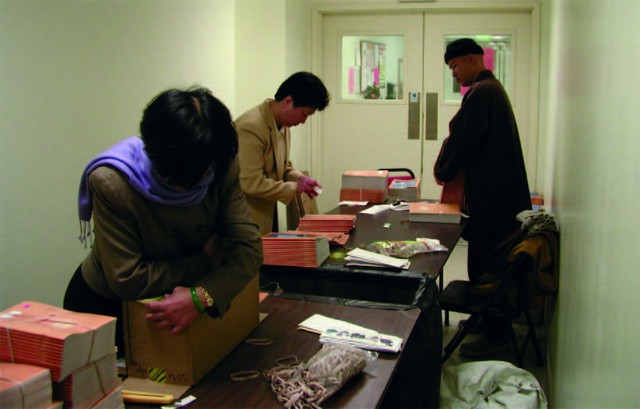 Abbot Ji Ru is the very first Venerable to help labeling Wisdom Journal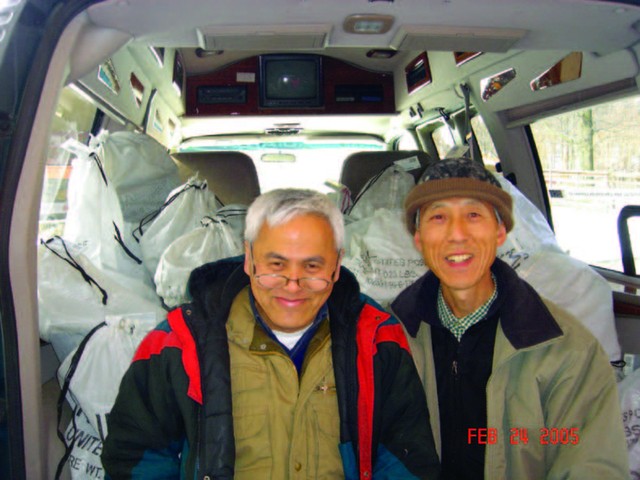 Mr. Yuda Shyu of Publication Group  always render ultimate support for Wisdom Journal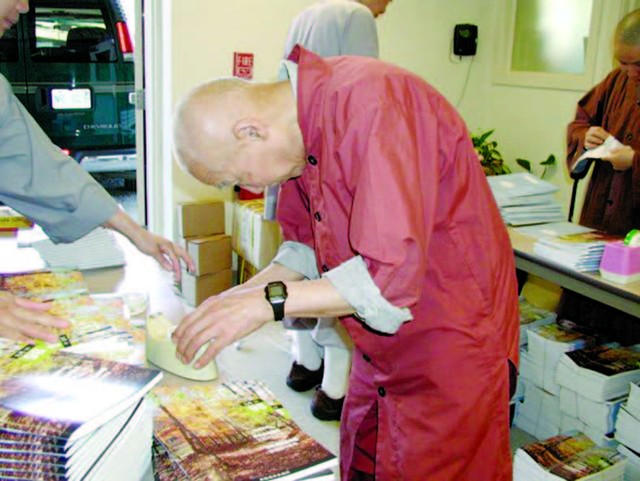 Abbot Jing Tong usually brought many Venerables with him to help out