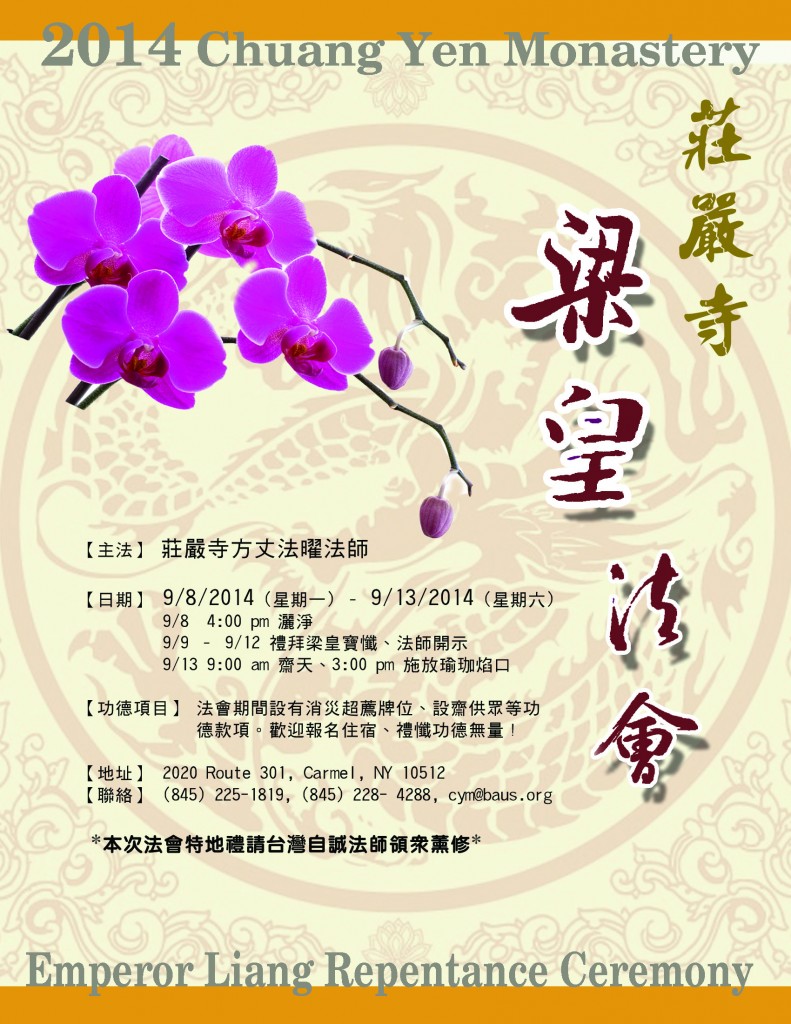 Historically, Emperor Liang initiated this ceremony approximately 1500 years ago. His wife, Chi Hui, died at age of thirty after leading a life marked by jealousy and anger. After her death, she turned into a giant snake and appeared in Emperor Liang's dream, seeking help. She came to recognize that she needed prayers from the sangha to make up for her bad karma and release her spirit from the lower realms. Through great generosity, Emperor Liang requested the senior monks to write a ten chapter sutra entitled Emperor Liang Jeweled Repentance. As a result of performing this ceremony, his wife's spirit was released from suffering. Today, over a thousand years later, people still repent and to quell bad karma and benefit deceased ancestors. The blessing for the deceased is a request made by the living on behalf of the ancestors. By reciting the sutra in good faith and participating in the ceremony the deceased will be liberated, the living will quell bad karma and hopefully good fortune will arise. We cordially invite everyone to join us for the ceremony.
For Prayer & Blessing Services
Inquire at the main office under the Great Buddha hall.
All donations will go towards benefiting CYM programs and maintenance and remodeling of the monastery.
9/8/2014, 4:00 PM Purification Ceremony
9/9/2014, 10:00 AM Repentance Ceremony and Grand Offering to the Buddha