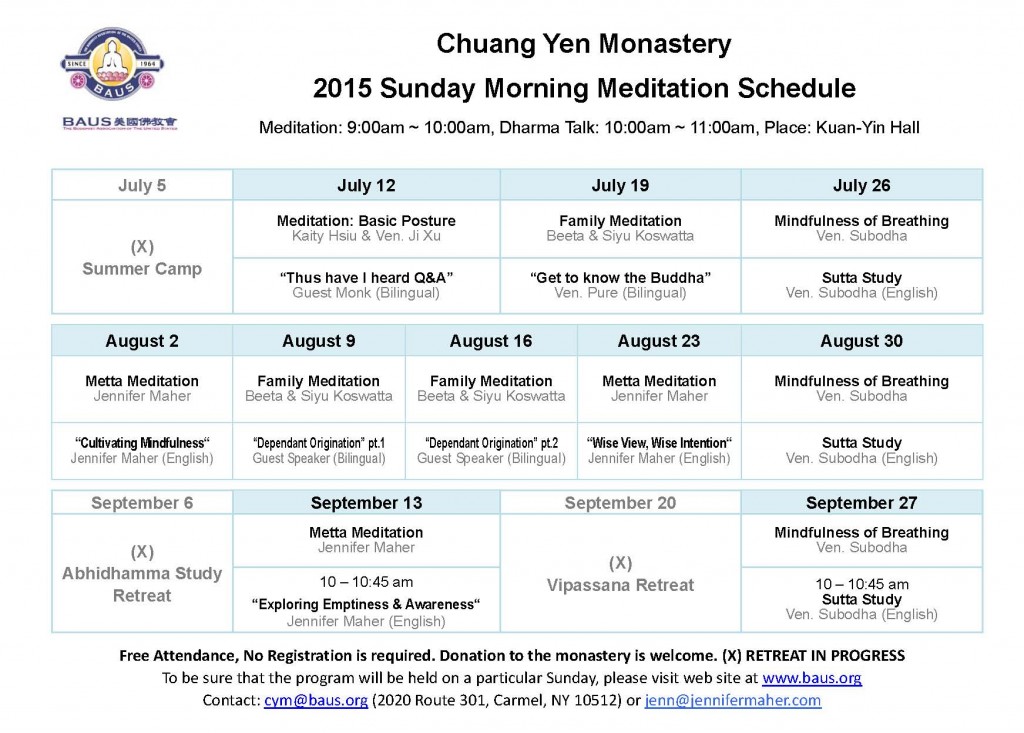 Instructors:
Ven. Ji-Xu – from Malaysia ordained as a monastic in Mahayana tradition in 1996. Practiced meditation in Myanmar under the guidance of Ven. Pak Au Sayadaw in 1998. Start to teach meditation in Chuang Yen Monastery in 2005.
Ven. Pure – from Taiwan, ordained as a nun in Mahayana tradition in 1985, become resident sangha in Chuang Yen Monastery since 1998.
Ven. Subodha – from Sri Lanka, became a monk in 1990 and ordained in 1993. He has taught Pali, Sanskrit languages and Theravada Buddhism for more than 10 years.
Mrs. Beeta Koswatta – Was a Physics teacher for 35 years in Sri Lanka. She obtained her B.S. degree in Physical Science (Univ. of Kelaniya, '72), Diploma in Education (Univ. of Colombo), M. A. in Buddhist Studies (Univ. of Kelaniya, '02), Diploma in Psychological Counseling Including Buddhist Insights (Dhamrivi Foundation, Colombo, '08). She has been practicing meditation for over 25 years. Siyu Kostwatta is her son, and will be the interpreter for the class.
Ms. Jennifer Maher –7 years in the Dharma Teacher Training program taught by Ven. Thich Tri Hoang, is a practicing Buddhist for 10 years in Mahayana tradition.
Summer Highlights: "Family Meditation"
Buddha encourages people to create harmonious community. Home is the smallest community in society. Practice to bring peace and harmony into your home, give a precious life-time gift to your children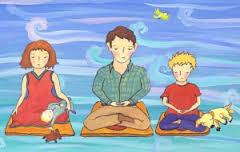 This program aims for kids age 5 and above
parent or guardian must accompany, will include Stories, Buddhist tales
Date: Jul. 19,  Aug. 9,  Aug. 16
Time: 9:00 am – 10:00 am
Instructor: Mrs. Beeta Koswatta (Interpreter: Mr. Siyu Koswatta)
Donation is welcome to contribute the monastery